1 - Presentation / morphology :
Leiopython albertisii is a superb specie, formerly called Liasis albertisii and now sometimes called white lipped python. Their beautiful white lips contrast well with the pitch black of its head that stops at the neck. This black colouring leaves place to a golden ochre that clarify on the side to end up by an entirely white stomach. Those snakes don't have any pattern.
Of solid conception, quite stocky, Leiopython reaches a good size between 1.80m / 6ft and 2.50m / 8.2ft ; Some specimens can reach 3m / 9.8ft.
2 - Biotope / Behaviour :
White-lipped pythons come from New guinea / irian jaya and some neighbouring islands.
Rather terrestrial, they mainly stay on the ground near rivers and streams.
Being terrestrial, they developed a surprising particularity : They mime death. During daytime when they rest on the ground, they take an upside down position, as if they were dead. However they can occasionaly climb, but their morphology does not allow them to stay at the top of the trees.
Nocturnal and very active when night falls, they go hunt rodants and every mamals or birds they could cross.
3 - Caresheet :
The specimens available on the market nowadays are often taken in nature, but the boom of captive birth those last years can let us think that those numerous imports will soon be history.
Captured individuals can be acclimated very easily, there are no big differences than with CB specimens except maybe more "tranquility"
Leiopythons albertissi need a lot of heat, a thermic gradient of 28°/32°C ( 82.4°/89.6°F ) seems to be ideal with, if possible a hotter place at 34°C ( 93.2°F ) . The ambient temperature of the air should be around 28°c (82.4°F) .
Their very sensitive skin require a strong hygrometry inside their enclosure, something like a constant 70/80 % . If this level can't be maintained, a wet box should be placed inside their enclosure ( A plastic box with an opener and humid sphagnum for exemple). Every lack of humidity will be immediately punished by a bad sloughing and some scales fissures.
The enclosure must be very spacious and must contain numerous branches and hiding places, in order to satisfy their nocturnal adventures. Adults, they're true caterpillars, so it's recommended to fix everything carefully.
Cncerning feeding, white lipped pythons are eating every kind of prey without any problems, from rats to chick. Most of them won't refuse to eat. An interesting fact : they can't digest hair/feathers, so they regurgitate it in a form of a ball. Entirely dry, those ball are often regurgitated at night when the animal is alone in tranquility. Therefore it's very difficult to witness this caracteristic.
When it comes to behaviour, Leiopython albertisii are very alert and ready to bite unwanted fingers which would try to hold them! However, once in hands, they lose their aggressivity and try to run away or to explore their surrounding
4 - Reproduction
White lipped pythons are sexually mature at the age of 4 approx. , but females always wait a few more years to reproduce themselves, so their first mating will take place between 5 and 8 years old.
It's quite difficult to reproduce this species in captivity, because it's absolutely necessary to impose them a cold season of 2 months at 15°C ( 59°F) and a weak hygrometry ( 40%) to prevent pulmonary diseases.
They lay between 8 and 15 big eggs which must be incubated at 31°C (87.8°F) / 90 % of dampness and during 70 days. Juveniles shows a grayish colour which quickly disappears to leave place to this beautiful and definitive golden colour.
Young Leiopython :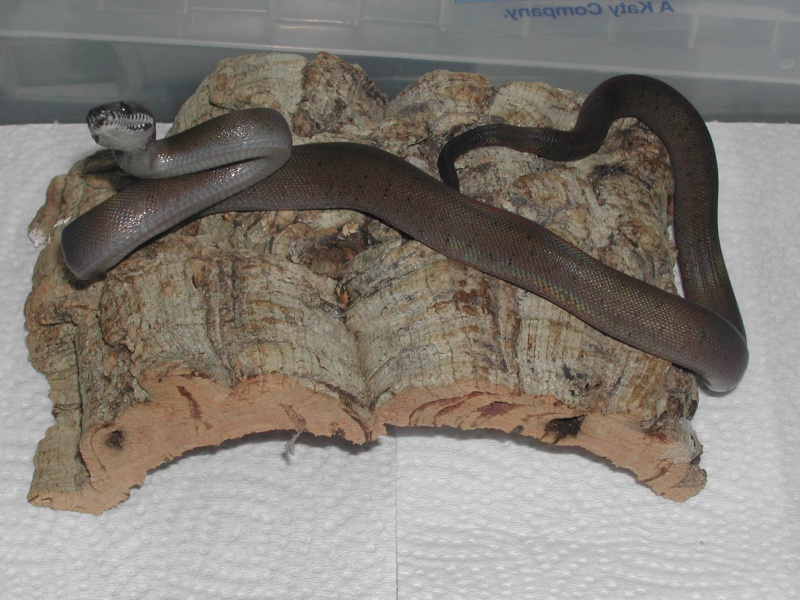 (Pics & snakes from Bar-neck)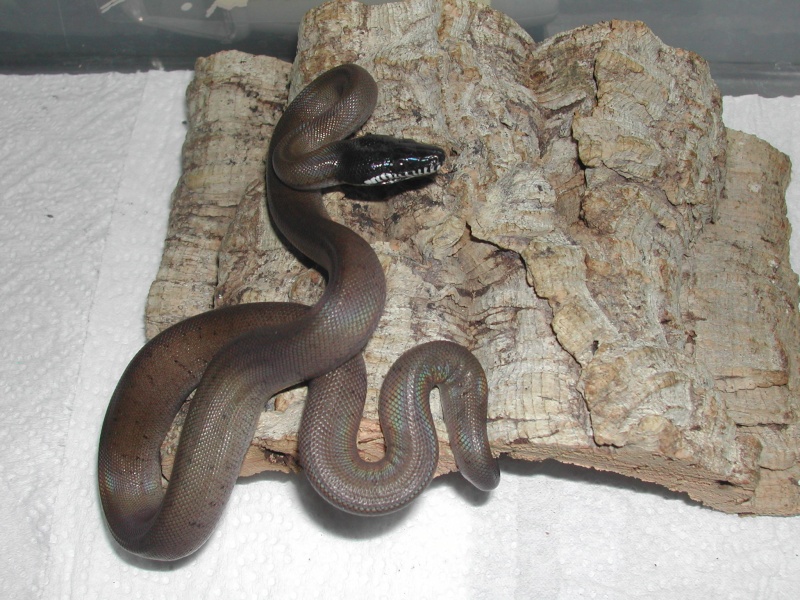 (Pics & snakes from Bar-neck)
Pics of a resting Leiopython
(pics from the website:
http://leiopython.de/en/care_albertisii.html
)
5 - Conclusion :
On several points it's a very interesting specie. Because of their special behaviour, Leiopython albertisii broadcast an impression of intelligence which make them very unique.
With the help of captive reproduction, I guess they'll be more and more represented in the worldwide herpetoculturist landscape.
Courtesy of occidentalis , Thanks !